The Grass Ceiling offers a variety of seminars and workshops. Our seminars and workshops are centered onThe Art of the Deal: Golf and aim to assist executive business women, college-aged young adults and minority individuals in understanding the game of golf and to show them how the game translates to the business world.
Workshop Overview
Attending The Art of the Deal: Golf seminars and workshops will prepare peer level executives with a different appreciation of this powerful business tool prior to either taking their next swing, or their first lesson. Etiquette and game instruction will result in confidence to compete, while business development tools will assist our "graduates" to build the types of networks that enable corporations to reap benefits far beyond normal employee contributions. Each session includes personal testimony from corporate executives, who discuss how the game has enhanced their network and their net worth.
Our pilot tests have received the acclaim and support of corporate, political, and celebrity dignitaries, various golf pros and industry personalities. The Grass Ceiling Inc. friends and clientele network already boasts a distinguished international list of ambassadors, politicians, athletes, entertainers, top-level executives and other professionals.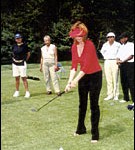 Workshop Description
Through relaxed, informal yet intensive, peer-level on-site or club-based clinics, seminars, retreats,and private consultations, Rose Harper-Elder and The Grass Ceiling, Inc. team offer hands-on, specialized technologies regarding golf's basic concepts, equipment, rules of the game, protocols, strategies, tournament play, and how to blend play and negotiation. We offer our unique services to executive business woman, college-aged young adults and minority individuals who want to learn how to use the game of golf.  All programs are offered as lectures, half-day sessions, full-day orientations, developmental retreats, and partnership intensives. We can also customize our programs to our client's particular needs and interests. In our more comprehensive programs, we provide access to The Art of the Deal Global Networking Directory and electronic database.