Mastering the Art of the Deal: Golf

The Grass Ceiling, Inc. was established in 1995 and has been a leading service provider to the sporting industry, offering professional consultation and management advice to executive level women, college-aged youth and minorities.
Welcome to the Grass Ceiling!
Hitting the Sweet Spot!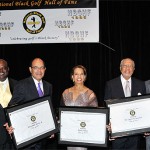 Barrow, Harper, Sinnette Inducted Into National Black Hall of Fame
"Three leaders of the golf industry, Dr. Calvin Sinnette, Rose Harper and Joe Louis Barrow Jr., were inducted into the National Black Golf Hall of Fame at its 25th anniversary celebration on March 5."
"Harper, in accepting her induction into the Hall of Fame, paid tribute to other minority women in golf and said, 'I stand on their shoulders.'"
Read the full article, here.